Clarkston, Michigan
48346
USA
21st October 1998
Well hello to all out there in the world,
It's Ellie here again getting round to writing another epic from the sunny states. I realise that it has been a very long time since anyone has heard from me but to say it's been like Sauchiehall Street here would be an understatement.
It all began back in May. May was the hottest I think I have ever felt, and being very heavily pregnant did not help. My mum arrived on the 31st of May as the baby was due on the 5th June. The week she arrived we had temperatures of 90 degrees and above. The humidity was also about 80% so it felt about 105 degrees. Cold showers all round. David and I had completed our apartment search by then and we were due to move into our new house on the 13th of June. We got the keys for it a few days before and began to get things organized like furniture delivery, telephone connection, cable TV and such like. A friend from David's work came over on the Friday night to help us move out of the old apartment. The weather decided to break that day and lets just say that it was a fabulous thunder storm although David & Jim could not see the beauty in it when they arrived soaking wet and absolutely exhausted from carrying everything up, on two separate occasions.
If you are paying attention, you will have noticed that I am now 5 days overdue and carrying boxes was out of the question for me. Not because of any danger to myself or the baby, but simply my size made it impossible for me to carry anything but myself. I now officially could not see my feet.
We tried to get ourselves settled into the new house as quickly as possible. My mum helped a lot but we were all waiting anxiously for Tigger to make an appearance. He finally did. It was on the 18th June (my Doctor was giving me until Friday the 19th or he was going to induce me) at 04:23 my waters broke. My biggest fear came to light - I didn't want to make a mess of my new bed so as soon as I felt the trickle I ran as fast as I could with my legs clamped together toward the bathroom before Niagara Falls began properly - and I made it. I woke David up and we left with my mum for the hospital. The journey to the hospital is about 25 minutes. We also had to cross the railway line - not much fun during a contraction.
The Hospital was very nice. The staff were all wonderful, but, the labour was not. After what seemed an eternity (we had managed to watch two world cup football matches and Coronation Street) and some Demerol (Pethidine - done nothing for the pain but what planet was I on at all) they eventually gave me an epidural. I have never been so glad to see an anaesthetist in all my life. Then the fun began. It was time to push - and push I did. David says the faces I made were better than Phil Cool ever imagined doing. Tigger had other plans. Every time I pushed he would come down and bounce straight back up again. "Bouncin' s what Tiggers do best" The cord was round his neck. They discovered this after lots of deliberation and two long hours of me pushing. We were now in the 18th hour of my labour and I had just about as much as I could take and Tigger was starting to show signs of distress. The epidural had a side effect with me - I could not stop shivering. It was very unnerving and David & my mum found it very difficult to watch. There was nothing they could do about it until the baby was born. The Doctor decided it was time for a section. Within minutes I was in theatre getting prepared and David was beside me in 'blues'.
At 23:08 Tigger came into the world - quiet at first but soon after his cries could be heard. Note I said HIS cries - David and I both thought we were going to have a girl so it was a big surprise but a pleasant one. Although we were not decided on any boys names. It took us a day to decide and Gordon Kelly won the race. (Kelly is David's middle name).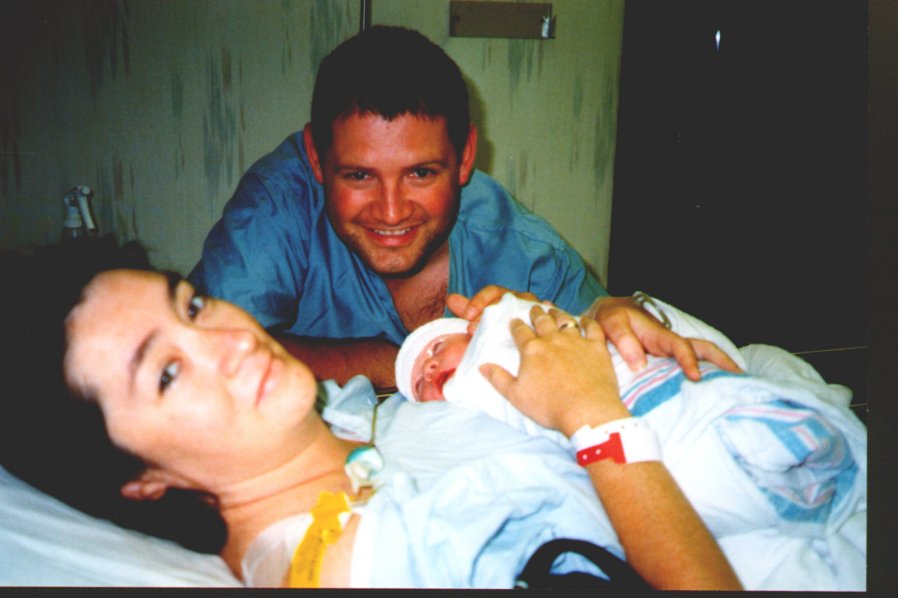 I was released from Hospital on the Sunday - three days post op. My clips were removed from my wound, steristrips applied and sent on my way with dihydrocodeine for pain.
When I got home I went for a nap. When I tried to get up after my nap I realised I couldn't sit myself up in bed. All the beds in the hospital are automatic - the old push the button and it sits you up and I had used this all the time not realising that I was going to have problems when I got home. I eventually got the hang of sitting up - I've been telling people how to do it for so long it was easy.........NOT.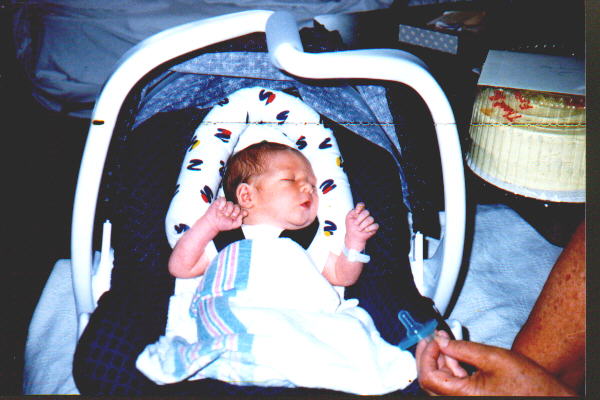 I made a good recovery and pretty quickly that was until we got the final bill in for the birth - are you ready for this, maybe you should sit down. OK it was $11000. Luckily the insurance covered it all - including the circumcision Gordon never had!!!! (It's trendy to be circumcised here).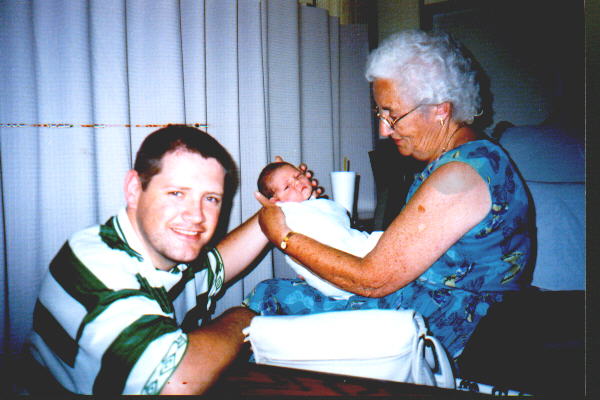 I had my mum for the first few weeks to help me out and that was fab. She went back to Toronto to finish her holiday on the 11th July as David's mum and dad were arriving on the 13th. We drove my mum to Toronto, stayed the weekend and took Gordon to the pub to watch the World Cup Final. We were picking David's mum & dad up in Toronto on the Monday although their flight was delayed and they did not arrive until the 14th (Tuesday).
David's mum and dad were with us for three weeks and we tried to fit in as much sight seeing as possible but it was difficult as we only had one car. That was in the pipeline, and after a week or so of their holiday I became the proud owner of a 1993 Plymouth Voyager. It is a 7 seater minivan. My original plan was to get a car ( I really like the new Beetle but David said no - spoil sport ) but we had so many visitors planned that we wouldn't all fit in a car especially for day trips.
My sister Tricia and her daughter Joanne arrived on 24th July - yes that made it 7 people in our two bedroom apartment. Amazingly we all fitted in very well. David, Gordon & I were in one room, David's mum & dad were in the other room and Tricia & Joanne were in the living room. Luckily the couch is large and we had a travel cot for Jo-Jo.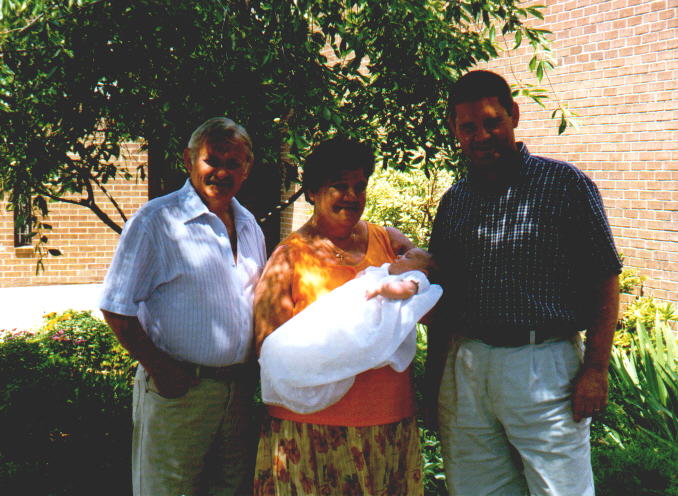 We had lots of fun over the next few weeks. Gordon was christened while the large group was here. We had a good day and the weather was scorching. We didn't have a party which as people will know is not like us. There were no fireworks either but we did drink some champagne and went out for a lovely meal. This was the first night Gordon slept right through - no he didn't have champagne but it was tempting.
David's mum & dad were due to leave, from Toronto, on the 5th August and my nephew, Martin, was due to arrive in Toronto on the 6th. So, we all packed up into the minivan and took a trip to sunny Toronto. David couldn't come as he had to work - he only gets 10 days holiday a year and he had already used 4 or so after Gordon was born. So basically - we went up, had dinner at Gerrys, took David's mum & dad to the airport - Tricia & I stayed overnight, went shopping in the morning and picked up Martin in the afternoon and drove back to Michigan. It takes 5 hours to drive and the kids cried for about three hours of the journey - nightmare - we also had a fabulous thunder & lightning storm for a good part of the journey. Hey we made that journey in one piece. Oh, I nearly forgot, we were not in my minivan, we were in a rental as mine was in the 'shop' getting the air conditioning fixed (under warranty).
It was now Friday the 7th August - Joanne turned 1 today. Tricia and her also flew back to the UK today. I got my van back from the 'shop' today. There was a massive thunderstorm today. I ended up going to hospital today. TODAY should be renamed Shit-of-a-day-today as I crashed my minivan, during the storm on the way back from the airport !!!! The worst thing about this was IT WAS MY FAULT. I decided the woman in front needed some remodeling to the back of her car as she stopped suddenly at a traffic light which had just turned amber. Seemingly, according to my nephew, I said Oh Shit as we failed to stop in time due to the wet road. David had came to the airport from work and was in his own car - he was behind me. I had Martin and Gordon in the van. My airbag was deployed and that was more frightening than the crash itself. The whole car filled with smoke and David seemingly got a bigger scare as he thought the van was on fire. Luckily no one was hurt badly except the minivan. I had airbag burns up both arms, a badly bruised right thumb and seatbelt bruising. (I held onto the steering wheel - not a good idea but I only realise that now). Gordon and Martin were ok.
Well I had the minivan for two weeks - one week of which it was in the 'shop' getting the air conditioning fixed (which they failed to do might I add). It cost $6000 and there was $4614 of damage to it and they repaired it !!!! At that cost, I think they would have written it off back home. Well, I've got it back now so all's well that ends well.
My nephew Martin was with us for just over two weeks. He was spending his last four days with my brother in Toronto - so off we all went to Toronto. This time we took the 2 hour drive to Niagara Falls. It was fab. We only looked at the falls - we didn't do the boat trip or anything as there was at least a 1and a half hour waiting time. It was amazing anyway.
Well Martin left, and we had 16 days of free time until our next guests arrived. During this time we made the effort to make the apartment more like home. We managed to get some mirrors and pictures up on the walls. CD's in the new rack and a few of the little mementos from home dotted around the place.
George and Susan we due to arrive on the 13th September. George King is one of David's best friends - David was George's best man. Susan Lindsay is one of my best friends - she used to live upstairs from us in Neilston Road. They are both married, but separated and decided to travel together. They eventually arrived on the 14th after the longest journey in the history of travel. They flew into New York (JFK airport). They could have got a connecting flight from Newark airport at 12:30 but their flight was delayed in the UK, and there is only one flight per day to Detroit City airport from Newark. Flights from JFK were out of the question due to a huge air strike by North West - the biggest company to fly to Detroit, So the next and only option was train. They boarded an Amtrak train at Madison Square Gardens after a $30 taxi ride and arrived in Toledo, Ohio 12 hours later. They were then taken on a 1 and a half hour bus trip to the Amtrak station in the downtown scary bit in Detroit where I picked them up in my fun bus.
We decided while they were here to take a proper trip to Niagara Falls and stay over etc. So we did and what a great time we had. We got to do all the bits - the Journey Under The Falls and The Maid of the Mist boat trip. Gordon loved it too. He was in his carrier -papoose thingy. We went on the Thursday night (very late after David's work) and went to Toronto on the Saturday via Niagara on the Lake which was a lovely little town well worth another visit.
My brother Gerrys friends Michael & Iain invited us all up to their penthouse for dinner on the Saturday night. They stay in one of Toronto's most exclusive apartment buildings - it's also 23 stories high and as mentioned before they are in one of the penthouses. The view they have over the city is amazing. Iain is a chef so the food was also amazing. He is part owner in the only kosher catering company in Toronto. No he is not Jewish, but a shrewd business man who noticed a niche in the market and doing very well thank you very much. He also has a part in a florist - the company can do $38000 worth of displays for one function and if Iain's company is doing the catering as well - lets just say he is not losing any money!!!
The following night we went to Gerrys for dinner. Susan and George thought his food was better!!! We haven't told Iain that. We all had a few drinks that night as Gerrys house was within walking distance of our hotel. Ask Susan about 'party time' and the bottle of Tequila!!! We done the usual sight seeing stuff in Toronto i.e. going up the CN Tower. It was fun and we also managed to have a beer while we were there - now there is a surprise. We were lucky we managed to do any sight seeing - I thought we were all going to be arrested. Susan had some problem cashing travellers cheques in the bank. Her photo seemingly didn't look like her and they were checking her identity with interpol or something like that. Anyway we made a hasty retreat from the bank. We left Toronto on the Monday night to come back to Detroit. Over the next week I encouraged George & Susan to spend lots of money by taking them to the outlet malls. These are the places you can buy designer goods at a fraction of the price. For example I got David two pairs of Timberland boots (in a sale) for $47 for the two pairs. That's about 32 pounds. This computer doesn't have a pound sign as it's American - bastards. So I think they will be getting the old visa bills in shortly and vowing never again!!
Susan & George left on the Monday 5th October on a 9am flight from Detroit to New York. We left our house just after 7 and the airport is about 35 miles away...............we eventually got to the airport at 845- due to crashes roadwork's and diversions -with two very worried passengers - but they made it.
My mum arrived on Monday night about 10pm. My brother drove her down from Toronto. He stayed overnight as he was working near here the following morning. He was supposed to be leaving by 7 the next morning. I woke up at 6:45 and I couldn't hear any noise so I got up to waken him up. The living room was dark and he was sleeping on the couch - I was shaking him gently saying - Gerry, wake up, your late. Then I realised that the blankets were rather soft as he wasn't in them. He had already left and rolled up the quilt on the couch. I was trying to waken up a quilt. The other side of this story is that Gerry misread my clock and was on his way to work at 5:30. I don't know who is the worst but at least I got to go back to my bed.
Well my mum was only with me for a week then she headed back to Toronto and Scotland thereafter. It's now very quiet here, all our visitors are gone until next year. So now we will hibernate for the winter as I hear it's going to be a bad one. I have at least got my moms & tots group every week and MOPS (moms of pre-schoolers) every two weeks. MOPS is fun, Gordon goes into the nursery and I go and listen to a talk (usually on life, universe or anything) then we do crafts. Last week we made an autumn wreath to hang on your door. Very popular thing to do here. At least I get some time to talk to other adults and I know Gordon is being well looked after, and if he is fussy and they can't get him settled they will come and get you.
Well, the most recent news is that I am coming home for a wee holiday. David can't get time off so it's just me and Gordon. I will be home on 25th November and come back on 10th December so I hope I can fit in seeing as many people as possible. I will be staying at my mums so I can be contacted there. Her phone number is 0141 884 4033.
We have also sent a video home of our home movies since we left. David's brother has got it and is getting it converted to UK format. If you would like a glance, you can get in touch with Bryan on 0141 849 0384.
Well I have to go Gordon is calling me, whaa whaa
love & hugs to all
| | | |
| --- | --- | --- |
| | | |
| | | |
Ellie McWilliams
Revised: January 05, 1999